Here we have an interesting example of a Main Stream media outlet using 'amature' reporters to cover 'the news.' Let's compare this amature coverage with professional coverage by looking at what is happening in Syria...
Here is a broad overview of Syria
in a nutshell..
Please visit and peruse my previous post 'welcome to Syria...'
http://shoe08.blogspot.com/2012/02/welcome-to-syria.html
Here is a video by another MSM, although one might argue that the view from Russia is biased, one must also wonder who those masked 'amature' reporters on the situation in Syria really are...
China has taken a lead in support of a diplomacy and a peaceful end to the conflict in Syria. Xinhua has a whole page devoted to the Syrian 'situation.' Their media reports are quite understated, with every word filled with latent meaning.
http://news.xinhuanet.com/english/world/2012-10/21/c_131920379.htm
Compare with these reports...
http://www.reuters.com/article/2012/10/21/us-syria-crisis-idUSBRE88J0X720121021
DAMASCUS

(Reuters) - A car bomb killed 13 people in central Damascus on Sunday as President Bashar al-Assad told an international mediator seeking a truce in Syria's civil war that the key to any political solution was to stop arming rebels.
The bomb exploded outside a police station in the mainly Christian central Bab Touma district of the capital while Assad held talks with United Nations-Arab League envoy Lakhdar Brahimi, who is pushing for a temporary ceasefire to mark the Islamic festival of Eid al-Adha.
State news agency SANA said the president said
Syria
supported "any sincere effort to find a political solution to the crisis, based on respect for Syrian sovereignty and rejecting foreign intervention."
Any proposal "must be centered around the principle of halting the terrorism and ... commitment by the countries involved in supporting, arming and harboring the terrorists in Syria to stop these actions", SANA quoted Assad as saying.
http://www.bbc.co.uk/news/world-middle-east-20020323
(the view from Britan)
But only Anti war is covering Kofi Anan's
http://news.antiwar.com/2012/10/20/kofi-annan-im-dead-certain-military-intervention-in-syria-will-not-work/
The former UN Secretary General and envoy to Syria also said Paul Ryan's argument against diplomacy was 'dead wrong'
by John Glaser, October 20, 2012
Former Secretary General of the United Nations Kofi Annan
warned in an interview
that will air on Sunday, that military intervention in Syria by the major powers will not work and "will make the situation much worse."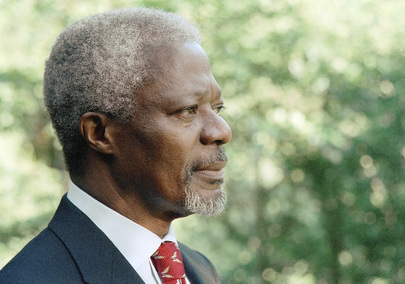 On his CNN show, Fareed Zakaria asked Annan, who recently served as UN envoy to Syria in an attempt to reach a negotiated settlement to stop the bloody civil conflict, whether military intervention could work as a solution.
"I'm dead certain it will not work," Annan said. "It will make the situation much worse."
"First of all, Libya – people refer to Libya as an example. Syria is not Libya. Syria is located in one of the most volatile regions of the world. Syria is next to Iraq, next to Lebanon, where we have had major problems. And in a region where you have all sorts of jihadist elements, and as we know they've been crossing into Syria. And because of the nature of Syrian society, which is a mosaic."
Annan also derided the claims among some in the major powers that "something" or some kind of intervention must be done in order to stem the violence.
These are the same groups of people, he said, "that propagated the idea that any attempt to mediate gives Assad more time to kill." This "is a piece of unmitigated nonsense," adding that statements to this effect from GOP vice presidential contender Paul Ryan were "dead wrong."
Annan has voiced these views before. All the way back in March,
he warned
not only against direct military intervention, but also against foreign meddling and arming of insurgent and rebel groups by various countries.